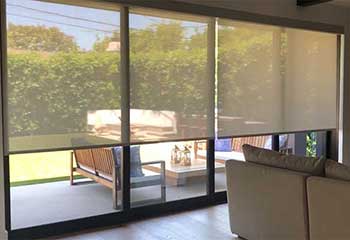 Motorized Blinds
Customer Issue: Mr. Hart wanted to simplify his home and to better utilize his smart home system. He reached out to us, hoping he could upgrade his window treatments.
Our Solution: Motorized blinds had the features that Mr. Hart had been hoping for. They connect to smart home systems and allow it to control the lighting via opening or closing the blinds. The smart home system can even adjust them according to the temperature to avoid wasting energy. This way, Mr. Hart won't have to worry about any of it himself.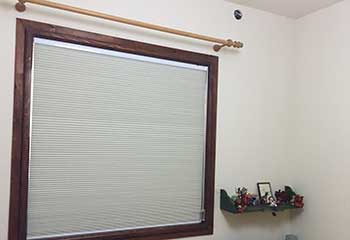 Motorized Venetian Blinds
Customer Issue: Mr. Walters wanted to be able to easily operate all his blinds at once to simplify things, as it was troublesome to have to move all over his home to adjust them.
Our Solution: Our experts spoke with the customer to discuss motorized options, as motorization would allow him to open and close all his blinds at once. To suit the style of his home, it was decided that white Venetian blinds would complement perfectly. They were created to suit each window and installed.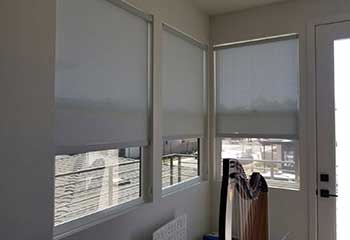 Solar Shades
Customer Issue: The room was getting too hot in the afternoons and needed an urgent solution.
Our Solution: Our team recommended the 1% solar shades, offering the highest sun blocking capacity while keeping the room cool and still providing a view of the outdoors. The customer chose an inside mounted, patterned grey fabric made of polyester/vinyl blend, with a continuous chain loop operation.
Lawrence Carey
- Westlake Village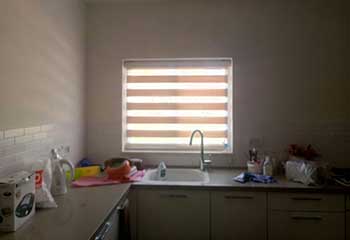 Vinyl Blinds
Customer Issue: Damage to the customer's window and blinds during a vandalism incident left him in need of replacements.
Our Solution: Since the housing was still undamaged, our team simply opened it and removed the vinyl blinds before replacing them with another, nearly identical set. A little testing to make sure the reinstalled treatments opened and closed as needed, and the job was completed successfully.
Enrique Martinez
- Malibu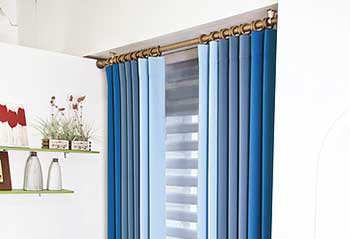 Drapery
Customer Issue: Mr. Jackson wanted some curtains added to supplement the existing blinds on his office window.
Our Solution: A pair of deep, navy blue polyester drapes with a golden valance and tasseled ribbon-ties made a perfect fit for Mr. Jackson's color scheme and Victorian style office aesthetic. Finding a place for the wall hooks took a little bit of office rearranging, but the end result was well worth it.
Barry Jackson
- Monte Nido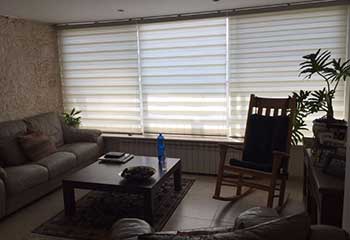 Motorized Cellular Shades
Customer Issue: The customer wanted to see if he could control the temperature in his living room more easily with a double-layered cellular shade added, without his unpredictable work schedule getting in the way.
Our Solution: A pair of sheer white nylon layers encircle the synthetic cellular shades our team assembled and installed over Mr. Przybylski's living room porch sliding door. After the motorized lift mechanism was installed, we programmed it to activate automatically at certain times, whether the customer is home or not.
Jaroslav Przybylski
- Malibu