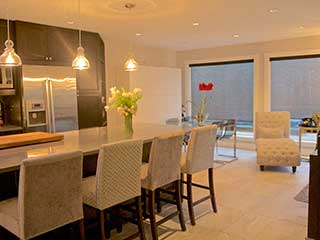 There's a wide variety of styles and types of motorized shades to choose from. It's important you get ones that suit all your needs. This will help ensure you get the most privacy, light filtering, and insulation possible. While practically every type of window treatment can be motorized, from blinds to draperies, the accessories and features are where things vary significantly.
Motorized Shades Can Help Save Energy
It may sound like an odd connection, and even a counterintuitive one, but you'd be surprised by how much energy can go to waste thanks to having windows that aren't shaded properly at all times. During the summer, if the sunlight is allowed to pour inside, it will keep everything at a high temperature and require the AC unit to run much longer. That constant operation gradually takes a toll, not to mention, the constant cooling will raise your utility bill. The same goes for the cold winter season. Insufficient window insulation will result in higher energy bills. Both in the short term and the long term. With motorized shades, you can set timers to ensure that they'll close at just the right times to keep your home insulated 24/7. This way you won't be wasting energy unnecessarily!
Automation Make Things Easier
Motorized shades can, in general, just make things so much simpler! Your life is busy enough as it is, why not give yourself one less thing you have to do manually, or even remember to do at all. Instead of running around to close the blinds when you have a movie to watch, or struggling to try to get them all even by hand, you can take care of both things with a touch of a button if they're motorized! Timers can also be set to open and close the shades depending on the time of day and your needs. You can set them to open on the hour you want to wake up, saving you the trauma of the alarm clock and utilizing sunlight as mother nature's own wake-up call.
Progress Doesn't Stop
Let's not forget - the innovation goes further. With brands like Somfy and Lutron constantly producing newer and newer features, who knows what the future will hold. Nowadays, you can even have a sensor connected to your motorized shades to have them adjust automatically according to outside weather conditions and brightness level.
Let Malibu Blinds & Shades Help
Our experts will measure each of your windows to have your new motorized shades made to the exact custom size. Even the most oddly shaped windows will be taken care of. Schedule a free consultation today and find out about the latest innovations in the field of automatic window covering technology.