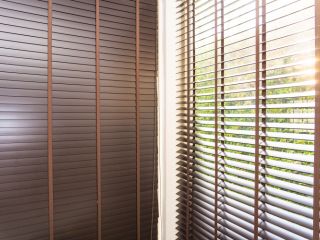 At Malibu Blinds & Shades, we pride ourselves on offering an extensive selection of faux wood and wooden blinds, providing you with the perfect blend of aesthetics and practicality for your windows. Whether you have a residential or commercial space, indoors or outdoors, our faux wood blinds are a versatile and elegant choice to complement your decor.
Our Faux Wood Blinds Collection:
Faux Wood Horizontal Blinds: Create a classic and timeless look with horizontal faux wood blinds, available in various colors and finishes.
Wooden Blinds for Windows: Experience the natural beauty of wooden blinds while enjoying the durability and easy maintenance of faux wood.
Wood Window Blinds: Enhance your Malibu home with the warmth of wood window blinds without the cost and maintenance of real wood.
Woven Wood Blinds: Add texture and sophistication to your space with our woven wood blinds, perfect for a rustic or coastal aesthetic.
Wood Grain Blinds: Capture the authentic look of wood with our wood grain faux wood blinds, offering a true-to-life appearance.
Why Choose Faux Wood Blinds?
Faux wood blinds have numerous advantages over other window treatments:
Durability: Resistant to moisture, warping, and fading, they are ideal for Malibu's coastal climate.
Low Maintenance: Easy to clean and maintain, these blinds offer long-lasting beauty.
Cost-Effective: Enjoy the luxurious look of real wood without the high price tag.
Versatility: Suitable for any room, faux wood blinds come in various styles and finishes.
Free Consultation: Our experts offer free consultations to help you choose the perfect blinds for your space.
Blinds Automation and High-Quality Installation
Malibu Blinds & Shades is your go-to source for blinds automation and high-quality installation. We specialize in motorized window treatments, partnering with top brands like Somfy and Lutron to bring automation and convenience to your space. Our team ensures a hassle-free installation process, leaving your windows looking flawless and functional.
Find Your Perfect Window Treatment
Not sure which window treatment suits your space best? Our knowledgeable team can guide you in choosing the perfect window treatment that complements your style and space, whether you're looking for faux wood blinds, wooden blinds, or any other window treatment. We are committed to delivering personalized solutions that elevate the aesthetics and functionality of your home or business.
Explore Malibu Blinds & Shades Today
Upgrade your space with the timeless beauty of faux wood blinds. Malibu Blinds & Shades is here to transform your windows, providing you with quality products, expert installation, and motorization options. Contact us for a free consultation and explore our collection to find the perfect window treatment for your Malibu space.