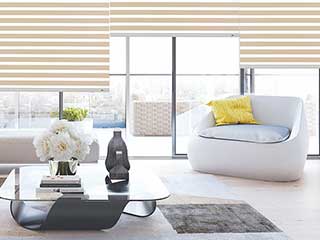 Most window covering options consist of a single color or a textured design displayed across the surface of the shading product. That's where layered shades are different. This type of covering consists of two layers of fabric with opaque bands and sheer stripes. The unique structure and design makes of layered shades makes them a covering option that's very easy to adjust. They make for a great way to add elegance and style to any part of your residential or commercial property.
Why Choose Layered Shades?
Unlike other shades, these covering's don't open and going up and down along the window's height. What they do is simply roll on a continuous loop lift, and you decide where they stop. What happens is, their sheer and opaque bands move to cover or uncover each other, thus varying between room darkening status, or bright light filtering. With a simple adjustment you can illuminate a room, or plunge it into darkness. Your call.
A Unique Design Style
As mentioned earlier, this type of window covering is special in its structure, which allows for interesting design options. The opaque and sheer stripes can be customized to be of various colors in all sorts of shades, and even textured varieties. This uncommon look is sure to contribute to and complement the surrounding décor, and enhance the vibe and cozy feeling of the room in question.
Let's Not Forget About Motorization
If you're thinking, I like what layered shades look like, but I don't want to have to manually adjust them every couple of hours, don't worry. There's a readily available solution. If you're like many other home and business owners near the LA metropolitan area who want to ensure their interiors stay protected from damaging UV light throughout the day, then consider integrating smart home technology with your new motorized layered shades. You can get a simple electric set that's easily controlled via a remote, or you can get automatic coverings that you can adjust using your smartphone. There are even self-adjusting layered shades that will automatically change their openness according to sensors that sample brightness and temperature.
Custom Made Layered Shades Close To You
The beautiful and functional shading solution you're looking for is nearby. In fact, you're already on the right website. Now all that's left for you to do is to get in touch with Malibu Blinds & Shades today by calling our service hotline or using our online booking system. Schedule a free consultation at your home or office and let us introduce you to the varied and customizable world of layered window shades.