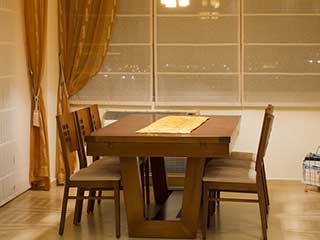 These classic shades are perfect for homeowners who seek a combination of decorative elegance and unostentatious simplicity. Roman shades are a diverse category, and you can have a set custom made for your particular tastes and needs.
Types of Roman Shades
The basic Roman shade hangs down in a sheer, loose blanket when closed, but folds up into a ribbon of stacked pleats when opened. Other styles stay partially stacked or ribboned even while closed, making a more intricate window cover. Hobbled shades stay slightly folded at all times, while flat shades have a hem at each fold that sucks the fabric in. Some Roman shades also have rigid panels to form a backing, making them more opaque and more visibly ribbed whether they're open or closed.
Embellishments and Detailing
Most types of Roman shades tend to be better at keeping the light out, because their folded structure provides overlapping protection against the sun. If you'd rather keep the option of letting in a little more light while also making the shades a little fancier, you can have yours slit along the middle, or have the bottoms cut into triangles, semicircles, tails, or simply leave them hanging with long tassels. A shade with an embellished fringe lets in a bar of filtered, indirect sunlight when left in a nearly closed position, and the extra details at the bottom match the ribbon surface aesthetically.
All Sorts of Options
Would you like your Roman shades designed in cloth or bamboo? Dark, sleepy colors to go with a darkened bedroom, or bright ones to inspire guests in a foyer or clients in an office? Aside from color and material, our Roman shades – like many of our other products – come in both classic and cordless options. The motorized versions are entirely convenient, reliable and ensure maximum safety for children. It's all up to you!
Get Yours Today
Call us or get in touch online to order the perfect Roman shades for your home or business. Our products include installation services and free consultation. Order yours right now!