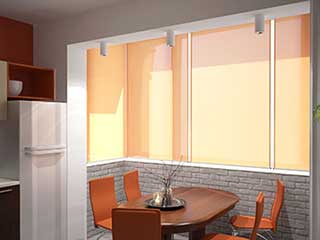 Have a look at our custom made roller shades. Fit for any residential or commercial setting, these shades are user-friendly, low maintenance, and readily customizable to fit the atmosphere and color scheme you want.
Maximum Ease and Convenience
Roller shades are the simplest to raise and lower - just pull on the drawstring, and the mechanism does the rest. Because of their simplicity, and that they are bounded to the surrounding window frame to prevent ripples and tangles, rollers are also some of the easiest shades to install with one of our computerized motors. With motorized shades, you can set the windows to cover and uncover themselves without you even needing to move a finger.
Picking the Right Color
Our roller shades come in the colors of the rainbow and can be made with a variety of decorative designs or patterns. For a simple, low-key living or bedroom, some plain black, white, or gray shades can be the best fit, not seeming too garish or attention-seeking. In a more colorful room, however, you can pick a hue or pattern that complements the rest of the space and contributes to the desired aesthetic scheme and atmosphere.
Further Customization and Additions
Color and motorization aren't the only choices you can make when picking out a set of roller shades. These coverings can be made from a wide selection of fabrics with different levels of insulation and opacity, and some aren't even made of fabric at all. From gorgeous bamboo shades to concealing and waterproof vinyl blinds, a well-chosen style of atypical coverings can provide as much aesthetic value as any of the more complicated types of window treatments.
Call Us and Get Your Drapes
Affordable and accessible, our roller shades can be delivered to any address within city limits, and installed by our professional team. Call today and get your windows properly treated.