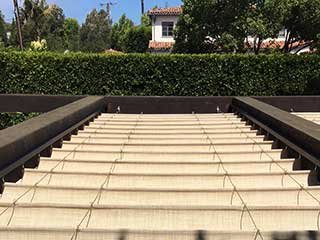 When hanging out in an outdoor lounge, whether it's a brick patio or a wooden deck, you need proper protection from harsh sunlight and potentially other elements too. Well, that's where our custom patio covers can help. From motorized awnings and shade sails to freestanding canopy tents and of course – motorized patio shades! Choose the perfect methods of cover for outdoor Malibu patios and enjoy the newfound aesthetics, plus the excellent utility that comes with it!
Best Covers For My Patio
So how does one choose patio shades or canopies that meet all their needs? Well, first you need to decide what benefits you'd like your new patio cover to possess. Do you want something easily portable that you can move around at will? If so, perhaps a pop-up canopy tent or even shade sails might work for you. They have a relatively simple installation and you can relocate them without much fuss. Looking for something more technologically advanced that demands zero effort from you? Go with custom made motorized patio covers for your Malibu home and all you need to do is press the remote control button. Your motorized patio shades will roll out to protect you from sunlight, UV, and even a drizzle or wind, should you so choose.
Freestanding Patio Shades
For the portable option, many of our customers like the variety of designs available. From shade sails that turn your backyard into a veritable pirate ship to pop up canopies, you simply stand at any location you want. Freestanding patio covers give a simple and fast way to add shade protection to any part of your deck or courtyard. And taking it done takes little time too! The benefit pop-up canopies add to Malibu patios, lawns, gardens, or deck areas is their very easy portability. You can set them anywhere, then move them anywhere you want. Need to add coverage to a specific spot with an unusual angle? Get awnings, motorized or freestanding, installed, and protect even the oddest corners from blazing sunlight.
Motorized Patio Covers – Custom Made
Whether you need a motorized canopy for pergolas or gazebos, our automatic patio shade solutions provide the most convenience at the best price near Malibu. With the addition of Wi-Fi smart tech, you've got the option to use your phone as the main remote control handset. Motorized patio shades provide an effective covering solution for outdoor spaces. Especially when custom made. Getting patio covers, motorized or otherwise, made to measure, ensures complete coverage of the designated areas. This helps you make your outdoor lounge more convenient as well as more aesthetic.
Malibu Patio Cover Installers Near You
You've got someone to consult with (for free) before ordering your new patio shades from us. Our experts help clients look at all possible options and designs, as well as different motorized patio cover features that work for their budgets. We provide free estimates before every purchase of custom made patio shades. So give us a call, set up a free consultation, and let's get started!