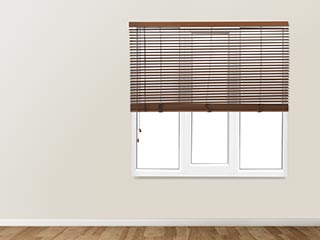 As a leading type of window treatments with incredible popularity, Venetian blinds can fit all sorts of properties, including office spaces, gym windows, apartments, and various residential buildings. But what style specifically should you choose, and which features will work for your property? To help you decide, our expert Venetian blinds installers provide free consultations at your Malibu address, helping you customize the perfect option for your budget and needs.
Blackout Blinds Venetian Style – Bedroom Window Covers
For areas in which you need privacy and darkness, like bedrooms, you want Venetian blinds capable of darkening the room to enable good sleep throughout the night. Sleep influences our health and our mood, and improper sleep impacts both these aspects of our lives. Blackout Venetian blinds cover the window with no slits of light able to pass through, as the vanes overlap and ensure a solid sheet over the window. For Malibu bedrooms, blackout Venetian blinds offer one of the best options to ensure you can sleep with no interruptions or no early waking unless you choose to.
Add Motorized Venetian Blinds to Your Malibu Windows
One of the most sought-after features for window coverings is motorization. With remote control blinds, Venetian style, or any other type, you can control how much sunlight gets inside with the press of a button or by using your smartphone. Motorized Venetian blinds give you the same benefits as their manual counterparts, with the added convenience of wireless control. Enjoy the combination of traditional décor with modern technology and utilize motorized Venetian blinds in any room you see fit.
Help From Malibu Venetian Window Blinds Installers
We love helping customers find covering solutions that meet all their needs. To do this, we offer free estimates and consultations on Venetian blinds, motorized or manual, as well as many other types of blinds for the home or workplace. To find out more, get in touch with us and schedule your no-cost consultation appointment at your earliest convenience.