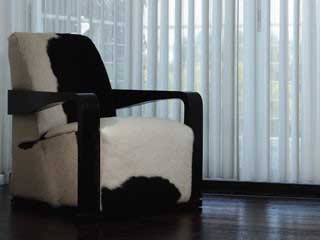 Make sure your Malibu property is both private and comfortable with our range of low-cost vertical blinds. We give you total control over every aspect of your new window coverings, from the material used to the color and even the method of operation. This means you can easily find the perfect vertical blinds for windows in any part of your home or workplace. Malibu Blinds & Shades is proud to give you the best quality at a very reasonable price. Our vertical window treatments provide privacy and convenient sunlight control with motorized or manual options. For more information, why not arrange a free consultation? Our Malibu vertical blinds installers are always on hand to provide expert information and advice.
Affordable Vertical Blinds Installation in Malibu
Many people mistakenly think that it costs a lot to install vertical blinds. For some companies that may be true, but not for us. We combine our amazing custom vertical blinds with cheap deals on all our products, so you'll always get the best quality at the best price. You might need vertical blinds for office windows, in order to improve your workplace. You can be sure that our great rates mean you won't have to find room in your accounts for our window coverings. Even if you just need vertical blinds for patio doors, our coverings will keep your home comfortable and private at a price that's easy to afford. We're proud to offer Malibu residents the best range of custom vertical blinds there is. Why not contact us today to learn more?
Different Types of Vertical Window Treatments
We're the Malibu-based specialists when it comes to vertical blinds. We provide every combination of vertical blinds styles you could want. That means the only limit is your imagination. Choose from amazing materials like metal, wood and vinyl blinds, and decide on everything from the width of the vanes to the color of the finish. We provide vertical blinds with curtains and valances too, if you're looking for a little extra versatility. Our custom window shading products are a very popular addition to bedrooms across Malibu and the nearby area. Also, we provide perfectly-fitting vertical blinds for sliding glass doors. This makes it easy to keep your kitchen and living room free from dazzling sunlight, as well as safe from prying eyes.
Cheap Motorized Blinds – Vertical Covers
What could be more convenient than operating all of your vertical window coverings remotely? Rather than adjusting each vertical blind in your living room by hand, you could simply tap your smartphone or reach for the remote control. Our custom motorized vertical blinds are much cheaper than you might think, and still offer the same amazing range of design options. Speak with our Malibu-based blinds specialists today to find out more. We have a great selection of wireless controls for remote control vertical blinds. Simply choose the options that work best for your business or home.
Local Source For Custom Vertical Blinds
There's no substitute for our expertise, and we're proud to offer our great services at a low rate. From designing the perfect vertical coverings to installing them on your windows or doors. We provide everything you need to improve your home, office or another establishment. Contact Malibu Blinds & Shades for a free estimate on vertical blinds for windows, doors, skylights or other.