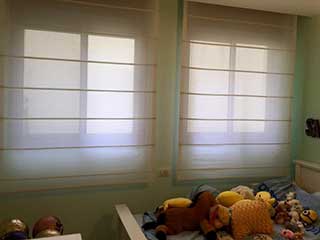 Roman shades have been around for decades! They've proven they can beat the test of time when it comes to home décor trends. However, this style of window covering has transformed into many different versions since the original fabric Roman shade style. The wide variety of possibilities also offers a wider variety of functionality and affordability for your home, making these a great investment. Let's take a closer look.
An Array of Materials and Styles
Roman shades can be made from essentially any fabric, including sheer mesh. This versatility makes it easy to customize the style and look of your home without sacrificing the overall value. A rustic country home, for instance, works well with woven Roman shades while a more modern home calls for sleek lines and solid colors. The shades are also made in many different ways, as well. A teardrop style makes a grand statement in large living spaces while a flat style works better in modern homes. Whatever the style of the home, it is likely some type of Roman shades will match it.
Timeless Design Concepts
Trends are often the bane of a fashionable homeowner's existence as stylistic upgrades can become costly as trends come and go. With Roman shades, however, the risk of your window coverings becoming outdated is much lower than with most home styling efforts. Since their appearance on the market, they have steadily remained a popular choice for homeowners across the country. When selecting blinds for your home you can rest assured knowing that this selection will likely last for years to come. Technically speaking, this type of window covering has existed since the time of its titular Romans. That's quite a long time ago, and doesn't seem to be going away anytime soon.
Soft and Beautiful Texture
One major benefit Roman shades have that should not be overlooked is their softness to the touch appeal. Traditional blinds can often be a stark contrast to an otherwise comfortable atmosphere whereas Roman shades create a more intimate feeling. The material also softens the light that enters the home, creating an overall ambiance that works well throughout the home. If you are looking for a timeless covering option that is both durable and easy to clean then Roman shades may be a great fit for you and your home or business windows.
Want To Know More?
Give us a call at Malibu Blinds & Shades and schedule a free consultation with one of our experts. Find out why many other LA County residents and business owners chose to get beautiful roman shades for their properties.