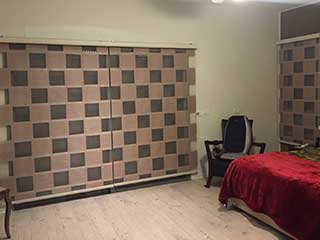 Below you'll find a list of three simple but impactful styling ideas for your window blinds. Choosing the right blinds or shades for your home windows can be tricky. Color, shape, and safety are all important factors to consider. Then there is functionality to think about. Hopefully, this list will help inspire your selection criteria.
Sheer Roller Shades

The transparency of this type of window cover will allow some light to come through instead of blocking it out completely. This means you can enjoy natural lighting during the day, without worrying about glare or UV radiation. Use orange, cream or light yellow roller shades for uplifting, warm casts. You can also have these shades made with a pattern that will show on surrounding walls as the light travels through it. Talk about harness sunlight.

Colored Wood Surfaces

You don't have to stick to the basic natural wood colors anymore. If you have venetian blinds for example, why not consider painting the panels a rich and deep dark brown or red. Many homes will have dark wooden furniture, so that could complement the decor in a great way. Modern blinds come in a range of colors, and it is easier now more than ever to find a shade to match the core tones the rest of the decor already exhibits.

Double Sided Cellular Shades

It is possible to buy cellular shades that feature cells that come in two parts. This essentially means that they can be painted in two colors, one facing in and the other facing out. This can be especially handy if you have exterior colors to match that are different from your desired interior colors.
Seek Outside Inspiration
It's always good to look up online colors and designs, and think about what you want and need for the specific room you have in mind. Meeting rooms require privacy, and living rooms require both privacy and lots of light. You can always consult with a specialist on the matter for better results. It just so happens, that Malibu Blinds & Shades provides free consultation appointments. Contact us and set up a sit down with an LA County based expert today.